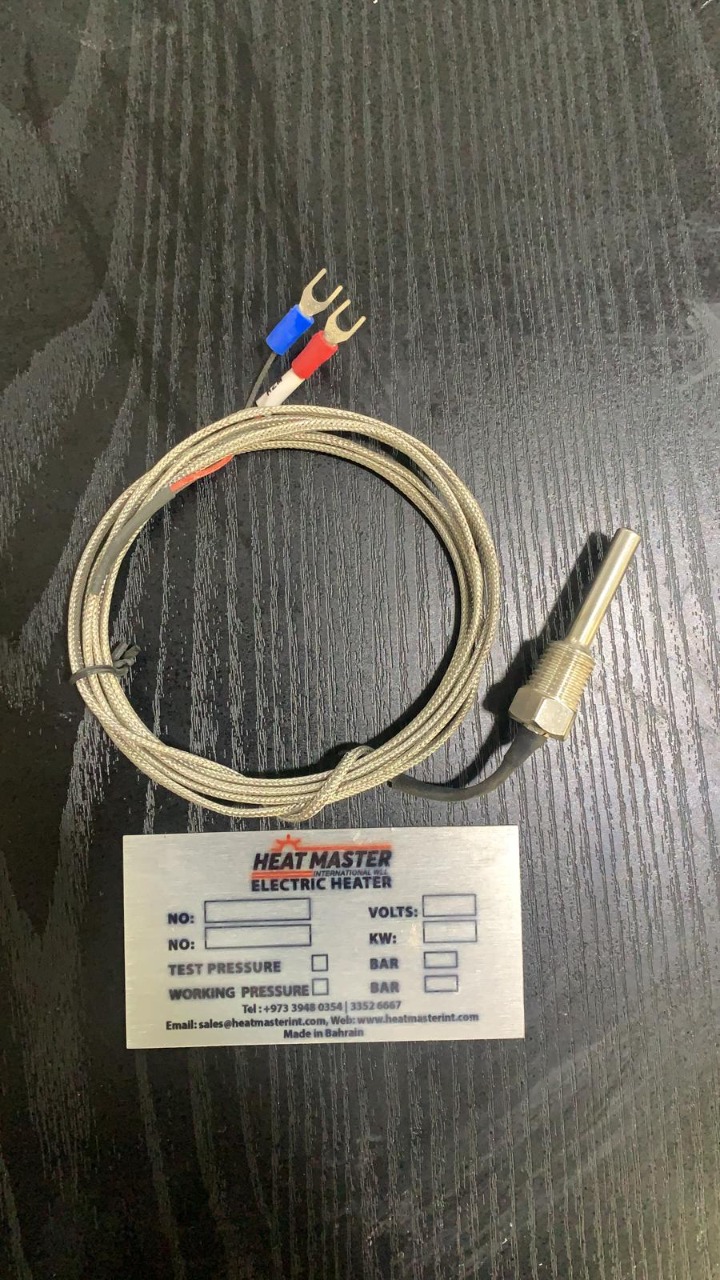 Thermocouples and sensors
Heat Master International is a leading Thermocouple Manufacturers in the kingdom of Bahrain, supported by well-equipped infrastructure facilities and a talented workforce.
Thermocouples are electrical devices used to measure temperature. It comprises two disparate metal wires, each with different electrical properties at different temperatures. These two wires are twisted or welded together at one end called a junction, which is the measuring point where the temperature is measured. When the joint of the two metals is heated or cooled, a voltage is generated that can be interrelated back to the temperature. Our thermocouples are fabricated using premium quality raw material and the latest techniques in compliance with international standards. We procure certified quality materials from the leading vendor base to manufacture these thermocouples and ensure that a damage-free and flawless product reaches the client's end. Our thermal experts combine their industry knowledge, experience, and in-depth understanding of temperature management criteria to provide customers with appropriate solutions.
We have developed a reputation as a reliable Thermocouple Supplier in the GCCs. Our offered Thermocouples are popular all over the world for their performance quality. It is the instrument that both senses heat and control temperature. It is a simple, sturdy, and cost-effective temperature sensor used, and its precision, quick response time, and ability to endure heavy vibrations, high-pressure and temperature extremes make them suitable for a wide variety of applications. They are available at competitive prices. Also, we are specialized in custom-made&non-standard thermocouples and their fabrication.
Types Of Thermocouples –
Type K: is the most generally used type and can operate for extended temperature ranges.
Type J: is commonly used to monitor temperatures of inert materials in vacuum applications. It works only with lesser-temperature ranges and has a short-lifespan at a high-temperature range.
Type R: is used in very high-temperature applications and has High accuracy and is stable in the application atmosphere. Is Resistance against oxidation chemically aggressive material.
PT 100: has sensor-terminal head assemblies that can be used in both thermocouple calibrations & RTD assemblies with 100,200,500,1000 ohm platinum,10-ohm copper,or 120-ohm nickel elements selections. For attachments, individually adjustable fittings are required.
High-durability
Dimensional accuracy
High-strength
Corrosion/weather-resistant
Temperature measurement of metals and kilns, engines, Processes
Used as the temperature sensors in thermostats
Food, plastic, pharmaceutical industry
Gas machines for detecting the pilot flame.
High-accuracy
Robust used in harsh high vibration conditions.
Thermal reactions are swift
Wide operating temperature range
Extremely consistent