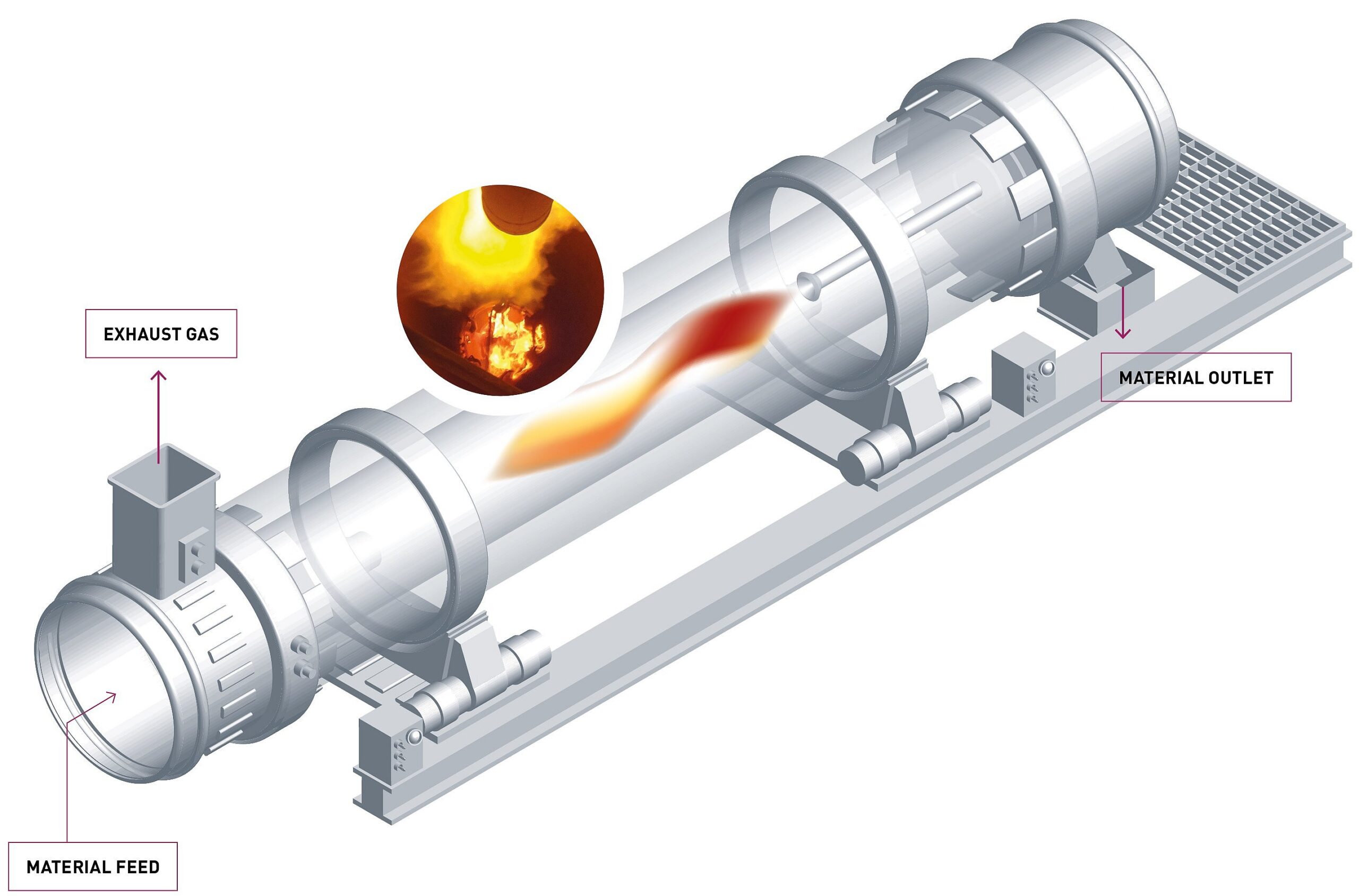 Rotary Kilns
DIRECT-FIRED ROTARY KILNS
HMI is a leading manufacturer of highly engineered, custom rotary kilns for processing solids. Our high-temperature kilns have earned a reputation for their durability, efficiency, and longevity. We offer both direct- and indirect-fired units.
Rotary kilns work by processing material in a rotating drum at high temperatures for a specified retention time to cause a physical change or chemical reaction in the material being processed. The kiln is set at a slight slope to assist in moving material through the drum.
Direct-fired kilns utilize direct contact between the material and process gas to efficiently process the material. Combustion can occur in a combustion chamber to avoid direct flame radiation, or the flame can be directed down the length of the kiln.
Direct-fired kilns can be of the co-current or counter-current configuration, referring to the direction the combustion gases flow in relation to the material.
FEATURES
Size: Up to 15′ diameter x 100'+ long (Up to 4.6m dia. x 30.5m+ long)
Capacity: 1 TPH – 50 TPH (1 MTPH – 45 MTPH); maximum capacity is dependent on process variables unique to each application
Parallel or counter current flow
Optimized Refractory Lining Solutions (multiple layers, castable, brick)
Engineered shell to eliminate distortion and misalignment due to high operating temperatures
Various Drive Assemblies Available.
Optional Components
Various Seal Options
Machined Bases
Screw Conveyor Feeder
Automatic Gear Lubrication System
Exhaust Gas Handling Equipment
Ductwork
Various Burner Configurations
Components for increasing
Accommodates Various Fuel Types
Fuel Oil
Natural Gas/Propane
Waste Heat
Biogas
Material Options
Carbon Steel
Stainless steel.
In addition to the rotary kiln itself, HMI can supply a complete system with services, including:
Material Handling
Agglomeration
Drying
Afterburner / SCC
Quench Tower
Baghouse / Scrubber
Acid Gas Removal
Product Cooling
Field Assistance / Installation
Field Assistance / Start-up
APPLICATIONS & MATERIALS
Rotary kilns are versatile thermal processing machines capable of processing a wide variety of materials. Common applications are for both direct-fired kilns and indirect-fired kilns are listed below.
CALCINATION
Calcination refers to the process of heating a material to a temperature that will cause chemical dissociation (chemical separation). This process is used frequently in the creation of inorganic materials, for example, the dissociation of calcium carbonate to create calcium oxide and carbon dioxide.
THERMAL DESORPTION
Thermal desorption is also a separation process. This process uses heat to drive off a volatile component, such as a pesticide, from an inorganic mineral, such as sand. The component is vaporized at the increased temperature, causing a separation without combustion. In some cases, an indirect rotary kiln would be best for this application, because the volatile chemicals may be combustible. The indirect kiln will supply the heat for desorption, without the material coming into direct contact with the flame.
ORGANIC COMBUSTION
Organic combustion refers to the treatment of organic wastes with the intent of reducing mass and volume. Organic waste is treated in the kiln, leaving behind ash with considerably less mass and volume. This allows for a more efficient and effective deposit of waste materials into landfills.
SINTERING/INDURATION
Sintering is the process of heating a raw material to the point just before melting. This increases the strength of the material and is commonly used in the proppant industry, where sand or ceramic materials are made stronger.
HEAT SETTING
Heat setting involves bonding a heat-resistant core mineral with another, less heat-resistant coating material. Unlike an unheated coating process, here, a rotary kiln heats the coating material to just below the liquefaction point, allowing it to coat the heat-resistant core more evenly and more securely. This process is commonly seen in the manufacture of roofing granules, where a mineral such as granite is coated with a colored pigment, producing a product that is both durable and aesthetically-pleasing.
REDUCTION ROASTING
Reduction roasting is the removal of oxygen from a component of ore usually by using carbon monoxide (CO). The CO is typically supplied by mixing a carbonaceous material such as coal or coke with the ore or by feeding it separately. Examples are the reduction roasting of a hematite-containing material to produce magnetite that can be magnetically separated. In the Waelz process, zinc oxide in steel mill wastes is reduced to metallic zinc and volatilized for recovery in the off-gas system.
Some of the most common materials for which rotary kilns are employed include:
Activated Carbon
Alumina
Catalysts
Contaminated Soil
Electronic Waste
Petroleum Coke
Phosphate Ore
Pigments