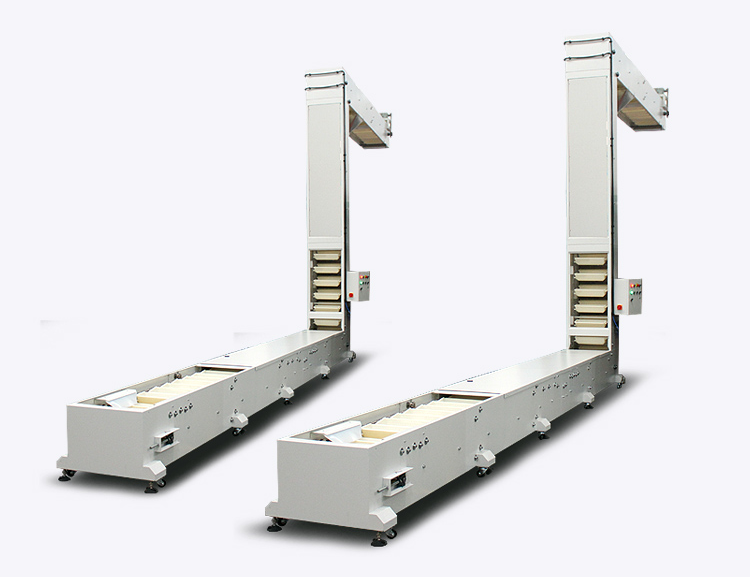 Z Type Bucket Conveyor
Z Type Bucket Elevator is designed to gently transport a variety of free flow bulk materials in dry, semi-dry, and moist conditions. The unit is extremely adaptable to deliver products to several locations from single or some sources of supply through its variety of discharge locations and stations
HOW IT WORKS
The Bucket Elevator is designed to lift various materials up to the delivery position at the top of the machine. The buckets are suspended in continuing hollow chains that are pulled by a gear motor installed at the top horizontal arm and located on the outside of the steel plates. The material inlet is located at the lower horizontal arm and is consisting of a vibration feeder and brushing devices that provide a continuous and consistent flow of the material to the buckets. The unit is mounted with inspection hatches for service and maintenance. There is a draw in the lower section allowing for easy cleaning.
Increased full range of ultra-high polymer guide rails and chain friction blocks, equipped with a check device and electronic detection device, chain-breaking protection device, chain automatic tension device at a higher lifting height, making the equipment more secure and reliable.
The lifting chain uses a high-strength chain, which continues the characteristics of our food-grade plastic hopper in the size of the hopper.
Combined with anti-corrosion, high temperature, and other requirements, R & D designed a special stainless steel hopper.
The machine is combined in a sectional style, with optional horizontal length and lifting height. Flexible layout, small footprint, saving plant space, reduce pit depth.
Operation is safe and reliable, smooth and lower noise, few specks of dust, easy to open and easy to repair, is an ideal new type of material conveying equipment.
Rugged design long service life.
Made from stainless steel/painted mild steel.
Bearing jack bolts for shaft alignment.
Hinged lagging inspection door with quick latch.
Packaging industry
Light industry
Food Industry
Pharma Industry
SELECTION INSTRUCTIONS
In order to give you scientific selection and accurate quotation, our engineers also need to confirm the following information:
1.Material to be handling:______
2.Handling capacity:______t/h
3.Bulk Density: ______t/m3
4.Max. granule size of the feeding material: ______mm
5. Vertical distance from the feeding inlet to discharge outlet:______m
6.Length of the upper horizontal segment:______ m
7.Length of the bottom horizontal segment:______ m
8. What equipment is used to feed the material into the Z bucket elevator:______
9. What equipment is used to discharge the material from the Z bucket elevator:______
10.Working power supply: ______V ______HZ
11. Does the Z bucket elevator work alone or with other equipment to form a system? If forming a system, do you have a preliminary design or hand-drawn sketch? If have please send it to our engineer for reference.
12.Quantity:______