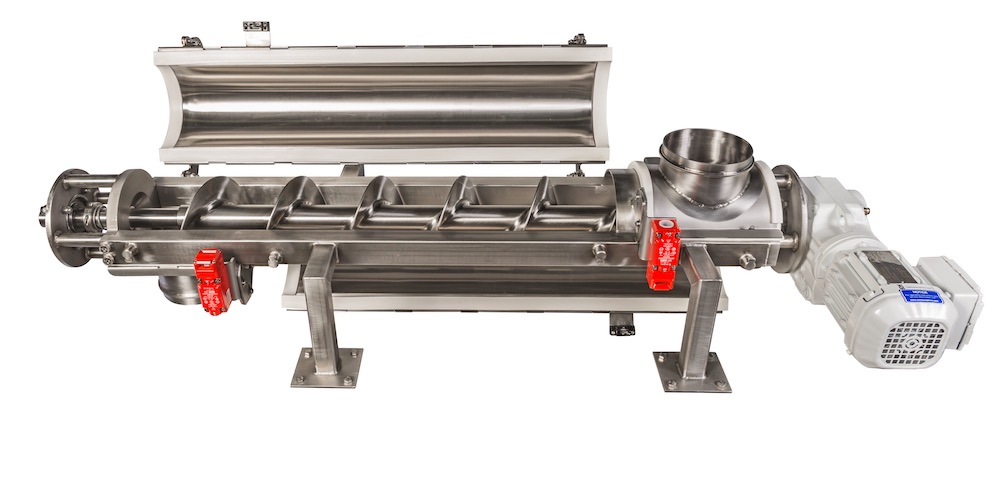 Screw Conveyor
Screw Conveyors are an economical and space-saving solution for transferring powders or granular materials from a lower to a higher level. The bulk material withdrawn from a silo, hopper, conveying, or feeding device may be discharged by screw conveyor into a weigh hopper, into one or more bins or silos, or into another conveyor or conveying system.
HOW IT WORKS –
When the screw shaft rotates, due to the gravitational force of the material and the friction force generated with the wall of the tank body, the material can only move forward along the groove bottom of the conveyor under the pushing of the blade. It is like a non-rotate nut along the rotating screw to do the offset movement. The movement of material in the middle bearing is based on the thrust of the material moving forward. Therefore, the transport of material in the conveyor is completely a kind of slip movement.
In order to make the screw shaft in a more favorable tension state, the drive device and the discharge port are generally placed at the same end of the conveyor, and the feed port is placed as close as possible to the tail of the other end. The rotating spiral vane conveys the material while being conveyed so that the force that the material does not rotate with the screw conveyor blade is the weight of the material itself and the friction resistance of the screw conveyor housing to the material.
The face of the blade has different types such as the solid face, belt face, and blade face depending on the material being conveyed. Spiral conveyor screw axis in the direction of material movement at the end of the thrust bearing with the material to the spiral of the axial reaction force, in the captain is longer, should add the middle of the hanging bearing.
Simple structure, small cross-section size.
Can be achieved multi-point of unloading and loading.
Ideal for conveying dry to semi-fluid bulk materials – free flowing to sluggish
Cost-effective when compared to other conveying devices such as belt or pneumatic.
Efficiently distributes bulk materials to various locations using multiple inlet and discharge points
Totally enclosed for dusty, corrosive or hazardous environments
Modular components enable easy adaptation to various problems
Trough in standard length modular flange sections
Flange end bearing assemblies protected against material infiltration by shaft seals
Fewer components minimize maintenance. The simple operation of a helicoid screw rotating inside a fixed tube keeps costs low, reliability high.
Packaging industry
Light industry
Heavy engineering industry
SELECTION INSTRUCTIONS
Material to be processed: ______
Handling capacity:______t/h
Bulk Density: ______t/m3
Conveying distance(from inlet to outlet):______m
Material size:______mm
Material temperature: ______℃;
Working environment temperature: ______ ℃
Material is corrosive or not: ______ (Ps. Yes or No)
Water content:______ %
Installation form is horizontal or inclined : ______ ;
If it is inclined, what is the inclined degree______ °
Whether needing the supporting frame :______(Ps. Yes or No)
Upstream equipment (using for feed the material): ______
Downstream equipment (using for discharge the material): ______
Whether needing supporting equipment?______ (Ps. Yes or No)
Working power supply: ______ V ______ HZ