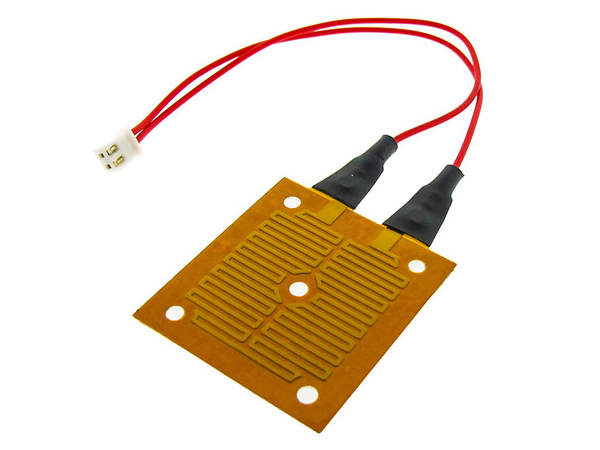 Polyamide Flexible Heaters
Kapton heaters are ultra-thin, ultra-flexible, semitransparent, lightweight heaters. They derive their name from Kapton, the polyimide film developed by Du Pont that is utilized to encapsulate the heating circuit of these heaters. Kapton heaters can operate within temperatures as low as -160°C and as high as 260°c and have superior dielectric properties. Kapton heaters exhibit excellent tensile strength, durability, and dimensional stability. These heaters produce uniform heat with rapid heat-up and cool-down characteristics. Kapton heaters can endure radiation, resist many chemicals, and because they are very low in outgassing, they are ideal for vacuum applications. resistance circuit is encapsulated between two layers of Kapton films utilizing either a Teflon® FEP adhesive or acrylic adhesive. These two adhesives define the thermal characteristics and the cost of Kapton heaters produced.
Kapton® heaters (polyimide heaters) offer superior tensile strength and tear resistance, with precision heat distribution. They are ideal for extreme temperature environments. Electric Kapton heaters are constructed of a flexible lightweight organic polymer thin film with high dielectric capabilities while providing superior resistance to most solvents, oils, even radiation.
Kapton heaters can accommodate holes and cut-outs; they can be built with different electrical terminations, heat sensors and can be bonded to application surfaces with different bonding methods.
Nickle chrome resistance wire optional
Screw or wire lead terminal
Maximum sheath temperature: 400°C
High heat transfer rates and fast heat up
Ceramic construction for higher temperatures
Long life
Large selection of lengths, sizes and terminations
Low expansion characteristics
3-Phase available
Distributed wattage available
Food Delivery & prep stations
Emergency lighting
Telecom switching equipment
Freeze condensation prevention
Condensation evaporation
Sterilizers & Incubators
Battery warming
Proofing cabinets
DNA sequencing
Liquid chromatography
Surgical tools
Freeze dry equipment
Printers, card readers & ATMs
Gas pumps
Oil field equipment