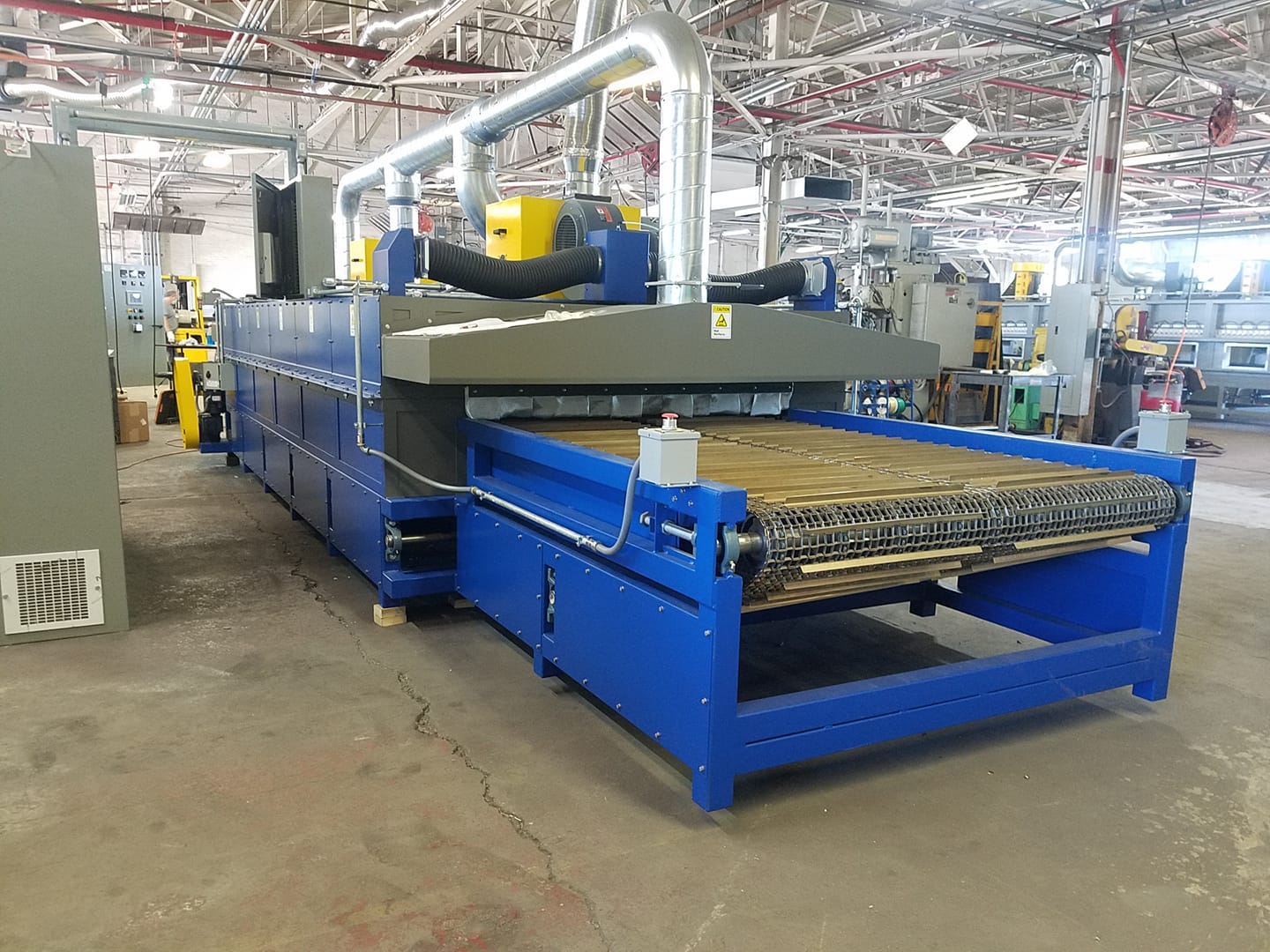 Slat Conveyors
Slat Conveyors are Conveyors employing one or more endless chains to which non-overlapping, non-interlocking, spaced slats are attached. Slat conveyors consist of endless chains, driven by electric motors operating through reduction gears and sprockets, with attached spaced slats to carry objects that would damage a belt because of sharp edges or heavyweights.
The slats are either of wood or flanged metal. Slat conveyors are very useful for handling heavy loads of heated materials.
Slat conveyors are used to assemble or transferring products to a certain location. It manages to lift and transport heavy equipment. Slat conveyors can be custom-made for the moving platform to be built into the floor or onto a higher bench. Slat conveyor systems may also install moving sidewalks upon request so the employee can move with the assembled product for more efficient production.
Slat Conveyors are used in horizontal conditions and operate at relatively slow speeds. They are generally used to move items that are not typically conveyable on rollers or belts, due to an irregular shape or bottom condition. They can also be used in assembly operations by modifying the slats to accommodate assembly fixtures.
Where it works
Manufacturing
Government Military & Agency
Automotive
Appliance
Cabinetry & Furniture
The most efficient and flexible heat source –
Instant on
Up to 91% energy conversion
Long life
Robust design
Dimmable
Compact construction
Ability to control
Ability to direct
PET bottle Manufacturing
Comfort Heating
Catering
Automotive and Engineering Industry: Paint & putty baking, Powder Coating, Preheating Parts prior to shrink Fitting or Welding, Drying Washed Parts.
Ceramic and Glass Industry: Baking, Sterilisation, Glaze Drying, TV tube Coat-Curing, Mirror Drying, Drying Washed Parts.
Electrical Industry: Drying of Motors and Armatures, Baking Varnish on Motor Windings, Drying paint, Baking Enamel.
Electronics Industry: Drying, Preheating, Curing and Solder Fusing of PC Board.
Food Industry: Dehydrating Fruits & Vegetables, Food Processing, and Moisture Removal prior to Pulverising.
Foundries: Drying of Moulds and Cores.
Leather Industry: Curing Sprayed Shoe Leather Hides, Baking Finish on Leather Products.
Plastic Industry: Preheating Plastics prior to Forming, Dehydrating Plastic Powders, and Curing Lamination & Adhesive Tapes.
Pharmaceutical Industry: Bottle Sterilizing, Glue Drying on Surgical Tapes.
Printing and Engraving: Drying Printing Ink, Setting Flux on Electrotype Castings, Silk Screen Drying and Curing.
Pulp and Paper Industry: Drying of Tapes, Cones and Cylinders, Drying Paper Coating.
Rubber Industry: Drying Rubber Laminations, Drying Paint on Hard Rubber Parts, and Curing Moulded Rubber.
Textile Industry: Drying Fabre, Fabrics, Silvers, and Non-Woven, Heat Setting Nylon I Polyester, Binder Curing on Non-Woven Fabrics.