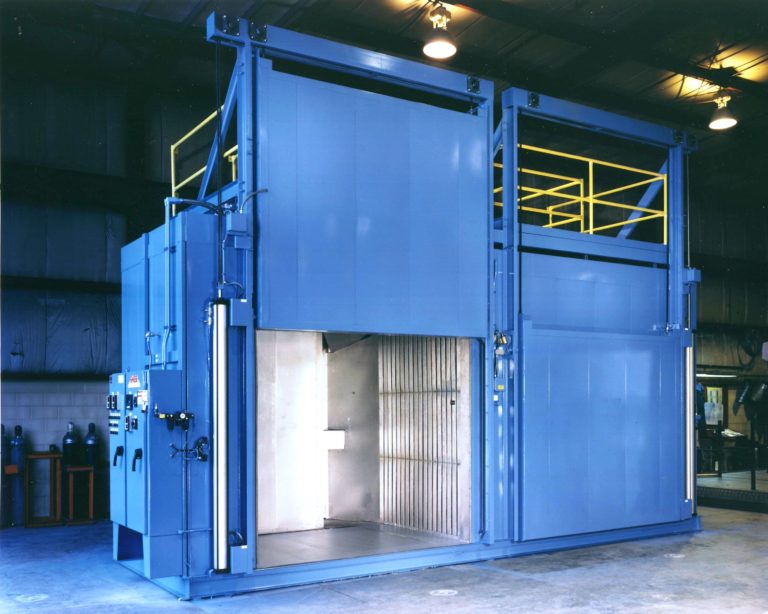 Industrial Batch Heating Oven
Batch Oven – Effective and High Performance Heating But at Low Power Usage!
Industrial Batch Ovens can be used for a wide variety of heat processes including drying, curing, aging, annealing, stress relieving, bonding, Preheating, composite curing, tempering, and forming. HMI manufactures both large and small walk-in ovens that can be used for a wide variety of heat treating applications. Standard batch ovens are offered in many sizes, with multiple options available upon request.
HMI also manufactures custom-engineered batch ovens.
What makes an HMI Batch Oven the best walk-in batch oven in the industry?
Air Flow Design

The HMI oven performs better than the competition because of the proprietary airflow design of our ovens. The HMI engineers are experts in airflow design so our customers can be assured that their part will be processed completely, saving both time and energy.
At HMI, We are engaged in providing various types of Batch Heating systems based on Heating sources and as per the applications, In the last 6 years we have designed and fulfilled the requirements of many types of industries with various types of industrial dryers, below are the few Industrial dryers listed however the experience is endless:
Tray drying
Drum drying
Rotary drying
| | |
| --- | --- |
| Size Of Working chamber | As per client requirements |
| Material Of Construction | Mild Steel, SS 304, ss 316, ss 310, and aluminized steel. |
| Temperature range | Ambient to 150, 250, 400, 500 Degree Celsius |
| Air Circulation | Vertical, Horizontal, or Combination. High Volume and High-Velocity Airflo provides twice the air changes compared to ordinary industrial /ovens |
| Timer | Digital pre-settable with a range up to 0 to 999 minutes/seconds |
| Paint | Enamel Paint / Epoxy Coating /Powder Coated. |
| Power Supply | 230 Volts Single-phase 50/60 HZ415 Volts 3 phase 50/60 HZ.Control Voltage 24 Volt DC or 120/220 Volt AC |
| Heating Media | HMI makes Low Wattage Incoloy sheathed heating Element l/SS Tubular Heating Elements.Low/Medium Wave Infrared Heating Elements C. LPG/PNG gas Burner Heating systems.Microwave Heating System.Vacuum Heating system.Steam Radiator type Heating system.Thermic Fluid. |
| Insulation | Ceramic Wool, Mineral Wool, ceramic brick's structure. |
| Door Gaskets | Fiber Glass Rope / Silicone Rubber gaskets |
| Heavy Duty Shelves / Trays | Made out of angles with wire knitted or perforated sheet suitable for oven internal size will be provided along with the oven |
| Exhaust – Manual / Automatic | Automatic forced exhaust system with the fresh air inlet.Manually adjustable damper with the fresh air inlet. |
| | |
| --- | --- |
| Temperature Control | PID with or without profile setting (Temp up and down) can be provided with SSR/SCR for high accuracy The programming of PID can vary from 4 to 50 Programmes. |
| Temperature recorder | Microprocessor chip-based paperless, Multistage, indicator cum recorder. |
| PLC with HMI | PLC can be provided for automation and integration of the whole system, data feeding, process display, and fault indication can be seen in HMI. |
| SCADA System | High-quality integration and controlling system from one point can be done with SCADA. |
| Door | The door interlocking system will switch off the blower and the heating system if the oven doors are open. Doors on both ends.Vertical lift automated doors. |
| Fumes outlet | Forced exhaust Blower |
| Windows and lights | Inspection Window Interior lights and access ports for calibration.Oven on switch – illuminated Heat On Switch Illuminated |
| Timer and Alarm | 24/7 Timer.Audible/visual alarm indicator. |
| Loading and Unloading options | CartDrag ChainOverhead ConveyorRoller RackSkid or PalletSlat Conveyor |
Aluminum Aging
Heat Treating
Preheating
Paint or Powder Curing
Motor Varnish Baking
Steel Weld Fabrications
Vaccume Forming