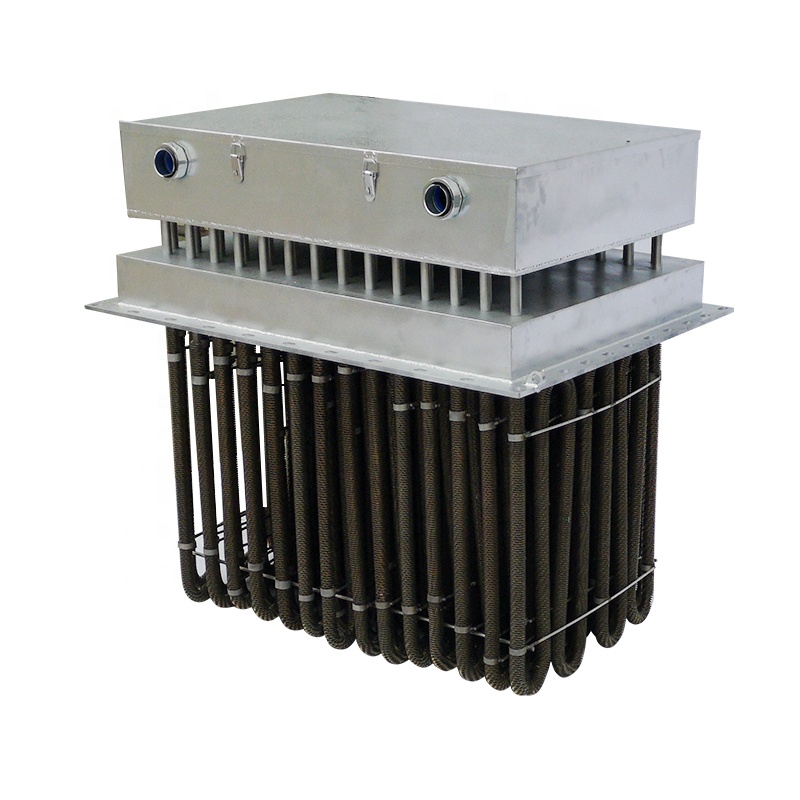 Finned Tubular Duct Heater
Finned tube heat exchanger for heat transfer between air, gas, and liquids or steam. Heat exchanger with finned heating surfaces, so-called finned tube heat exchanger, offer the possibility of heat transfer between gases and liquids significantly space-saving and is more efficient to implement than it is possible with straight tubes. Heatmaster finned tube heat exchangers are designed to transfer heat from clean air and gases with high efficiency on liquids or vapors, and vice versa. In this way, the media can be heated, cooled or condensed, in a close space. Finned tube heat exchangers can be used for different applications and in a variety of designs. Heatmaster offers various heat exchangers for economizer, air heater, heaters for gases, air heaters, or capacitors in fin-tube design.
Specifications
NEMA 1 General Purpose Ventilated Enclosure
Stainless Steel Mounting Flange and Terminal Box
Single- and Three-Phase Wiring
1″ (25 mm) Insulation
Field Replaceable .430 Diameter Stainless Steel Elements
9/32″ (7 mm) ID Sensor Thermowell
Stainless Steel Support Plate and Corner Posts
Stainless Steel Insulation Housinge
Variety of custom bends available
Silicone seals to ensure moisture resistance in humid environments.
Numerous types of terminations available
Customized cold sections
Increased surface area for faster heat transfer
Stainless steel mounting bracket, welded to the terminal end.
Ovens
Air Drying/Curing Operations
Annealing
Autoclaves
Booster Air Heater
Breaking Resistor
Core Drying
Dehumidification
Forced Air Comfort Heating
Heat Treating
Make-Up Air Heating
Re-Heating
Resistor Load Banks
Specifications
| | |
| --- | --- |
| Options | |
| Sheath Material | Copper, Steel, Stainless Steel, INCOLOY, Titanium |
| Watt Density | Up to 120 W/in2 |
| Fins Material | Aluminum, Stainless Steel |
| Voltage | Up to 480 V AC |
| Operating Temperature | Up to 1200 °F |
| Diameter | 0.375", 0.430", 0.475" |
| Wattage Tolerance | +5%, -10% |
| Resistance Tolerance | -5%, +10% |