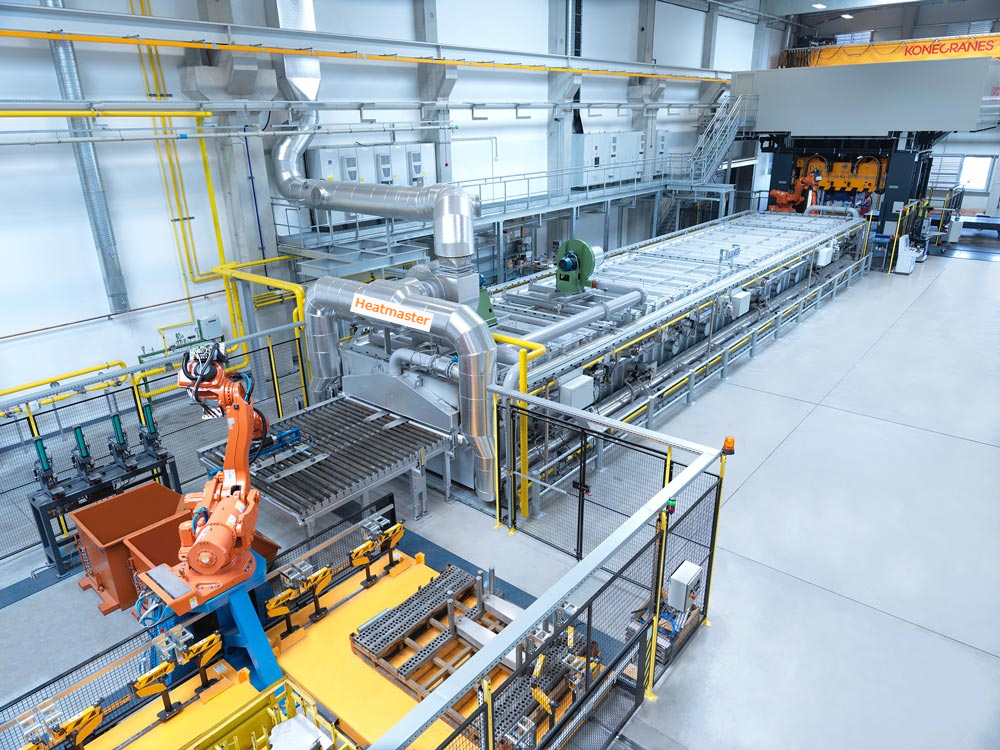 Roller Hearth Furnace
Roller hearth furnaces are designed by Heat Master International to heat treat a wide variety of products economically with uniform, repeatable results. There's a wide range of sizes of electric or fuel-fired heating systems with matched cooling sections and material handling systems. Coupled with a protective atmosphere to keep products clean or to assist in surface treatments, the roller hearth furnace is a powerful tool for today's manufacturing environment.
Continuous, Unlimited Work Flow: Roller hearth conveyor system consists of a series of externally driven rolls. There are no cumulative conveyor pressures or tensions as in belt, chain or pusher furnaces. As a result, there are no production or cycle limitations and the length of the furnace is dependent only upon your application needs. Individual operation of the roll sections permits continuous or interrupted workflow.
Fast, Top-Quality Production: The advanced construction design features of these roller hearth furnace let you increase both the quality and rate of your production. Individually driven roll sections for fast run-in and run-out, heavy-duty insulation systems, welded gas-tight casings, temperature-designed doors-all assure fast, accurate, uniform heating and cooling, minimizing atmosphere mixing, heat loss and work distortion or stress.
Flexible Operation: Individual roll sections can be started, stopped, reversed or oscillated; they can be run at the same or different speeds. This permits an operating furnace that produces your required cycle in a minimum amount of space.
Lower Product Costs: The wide selection of furnace combinations and sizes means that you can get the furnace designed for your needs. You can cut costs through increased product quality and rate of production. Factory assembly means lower cost installation and your furnace is in production more quickly. In addition, the best construction materials and design mean minimum maintenance.
Annealing/Annealing under protective atmosphere
Isothermal Annealing
Carbonitriding
Carburizing
Decarb annealing
Gas Nitriding
Hardening
Stress Relieving
Wire annealing
Ferritic Nitro Carburizing
Normalizing
Case Hardening