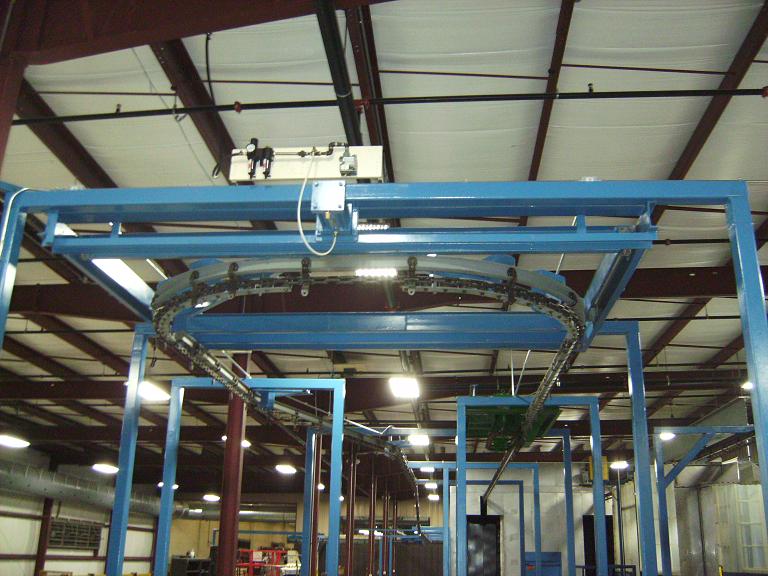 I-Beam Conveyor
Since the time of the first automobile, I-Beam overhead conveyors have brought increased efficiency to production lines. Using this proven design, ALIG has developed the I-Beam conveyor with improved components for low-cost conveying in a wide range of applications. ALIG's I-BEAM overhead monorail conveyors are proven to provide the lowest "cost per lb. of capacity" of all overhead conveyors.
How it works
Heavy-duty trolleys connected by a forged rivetless chain ride on an I-beam monorail. Each trolley has an attachment point from which a load carrier can be suspended. A variable speed drive unit grabs and moves the chain and thus the trolleys connected to it; suspended loads move synchronously, stopping and starting together and moving at the same speed.
I-beam conveyor comes in three track sizes, each with a different load capacity. 4″ high track has a 200-pound capacity per trolley; 5″ track has a 400-pound capacity, and 6″ track has an impressive 1,200-pound capacity. A load bar hung from two trolleys offers twice the capacity of a single trolley, so a load bar for a 6″ track can handle 2,400 pounds.
Suspend monorail track from floor-mounted support beams or ceiling attachments. Some systems may require a combination of the two.
Available in 4″, 5″ and 6″ conveyor track heights
Heavy duty forged chain and trolleys
HMI manufactures to industry standards so components are easily interchangeable with most other manufacturers.
Welded design for rugged, long-term use
Drop forged, rivetless chain is highly flexible and requires no tools for assembly.
Open track and chain design, all components are exposed and visible
I-beam monorail incurs the lowest cost per pound of capacity out of all overhead conveyor styles. Its durable welded construction is ideal for long-term use.
The track easily incorporates turns and elevation changes that skirt obstacles and make efficient use of underutilized overhead space.
With three capacities available, there is a suitable I-beam conveyor for everything from lighter weight material handling to heavy industrial assembly lines.
HMI offers a variety of trolley assemblies and carrier attachments for superior support and damage-free handling of almost any type of product.
Assembly Lines
I-beam monorail's high capacities and great durability make it one of the most commonly used conveyors for industrial assembly lines. Equip it with carriers that present loads at an ergonomic height for convenient access to every side of the work-in-progress. Adjust the variable speed controls to move parts at a speed that is suitable to your rate of production. Add optional "indexing" controls if you need to move the conveyor line a pre-set distance between stops.
Paint & Finishing Lines
Automate the transport of parts in a variety of finishing processes where manual handling would be too dangerous for workers or damage to the product. Use corrosion- and heat-resistant I-beam conveyor to move items through chemical washes and curing ovens. The overhead conveyor can incorporate declines and inclines for effective dip lines and is also advantageous in spray booths where every side of the product is accessible